1-A #Baltimore Rising
Andrew Foster Connors, Parent: Pastor, Brown Memorial Park Avenue Presbyterian Church; Co-Chair, BUILD / Bill Henry, Parent: Baltimore City Councilman / David Jaros, Parent: Associate Professor, University of Baltimore School of Law
The intersection of race, criminal justice policy, and economic disenfranchisement created Freddie Gray's Baltimore. Now, how can we dismantle it together? Join three Baltimore leaders — Reverend Andrew Foster Connors, Attorney David Jaros, and Councilman Bill Henry — for a discussion on the legal, political, and economic challenges that have exacerbated Baltimore's divisions, and the possible pathways for overcoming them.
1-B Small Tales, Proustian Bites, and Fantasy Flights
Harriet Dopkin, Parent: Co-Owner, The Classic Catering People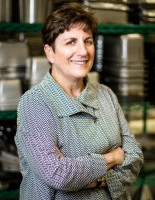 What makes food taste good? Stories, philosophical riffs, and, of course, culinary nibbles. Imagination, craft, and inspiration lie at the center of The Classic Catering People's vision. Their spirit is rooted in a commitment to the environment and to the Baltimore Community. Presenter Harriet Dopkin has been cooking since she was eight years old and will lead you on this culinary adventure. Studio fee: $10.
1-C All News is Good News: How a Negative Election Cycle and One Snarky Facebook Post Created a Social Media Cinderella Moment
Eric Thomas, Alumnus (1999): Columnist, ELLE.com; Award-Winning Playwright; Storyteller; TEDx Presenter, Coach
Eric Thomas writes a daily humor column for ELLE.com in which he "reads" the news, providing sassy commentary to daily events. In this humorous talk, Eric will tell the story of how one Facebook post led to thousands of social media followers, and a worldwide audience for intersectional comedy.
1-D American Justice for Non-Citizens: What's the Verdict?
Emily Datnoff, J.D., Alumna (1999): Maryland Office of the Public Defender / Fabian Lima, J.D., Alumnus (1995): American Immigration Lawyers Association
These front-line experts in immigration and criminal defense will provide a realistic and vivid picture of the criminal justice system for non-citizens today in the U.S. Fabian and Emily will also share unjust and often chilling stories of offenses that end in severe sentences, or even deportation, largely due to the 1996 punitive changes in immigration law. To bring the problems home, literally, they will provide an overview of the immigrant populations in Baltimore: where they live, what they endure, and what needs to be done to reform the system.
1-E Sony Pictures: Talk About Hollywood Suspense…!
Tom Rothman, Alumnus (1972): Chairman, Motion Picture Group, Sony Pictures Entertainment
In the crazy world of Hollywood, the fate of a film can change in a minute, as can the fate of stars and studio heads. So, for this session, Tom Rothman, the man behind the films, would like to be at Park to give you an inside view of how it all works, but he might not be here because he's in the midst of making some major movies. Suspense guaranteed!
1-F Election 2016 and the First 100 Days of the Trump Presidency
The Honorable Ben Cardin, Parent of Alumni, Former Trustee: United States Senator / Shelly Hettleman, Parent of Alumni: Maryland State Delegate, District 11; Former Campaign Director, Ben Cardin for Senate
Election 2016 was an extraordinary time in our nation's history. Two political veterans, who thought they'd seen it all, share why this time it was different. They will talk with us about the transition, how we got here, and what's next for the country.
1-G In the Cross Hairs: Aiming for Gun Safety
John Feinblatt, Alumnus (1969): President, Everytown for Gun Safety; Former Mayoral Advisor to Michael Bloomberg
This session will recap the success of gun safety initiatives in 2016, and examine where the movement goes from here.
1-H Bulls, Bears, and Bruins: A Park School Guide to Wall Street and High Finance
Joseph Kronsberg, Alumnus (2001): Analyst, Cyrus Capital Partners / Jeffrey Mazur, Alumnus (1997): Portfolio Manager, Citadel Investment Group / Liz Webber Wurster, Alumna (2004): Banker, J.P. Morgan Private Bank (Jeffrey Mazur not pictured)
Our investment panel will help demystify today's financial services industry. The presenters will talk about how they got to where they are today, what they brought with them, what they are learning in their work, and what everyone should know before investing a dollar.
1-I Yes Way Rosé
Erica Blumenthal, Alumna (1999): Co-Founder, Yes Way Rosé; Contributing Columnist, The New York Times / Nikki Huganir, Alumna (2000): Co-Founder, Yes Way Rosé; Freelance Designer, Art Director
Learn how two Park alumnae developed their passion for rosé wine into a full-fledged wine and lifestyle brand. The presentation will be followed by a tasting featuring their own Summer Water rosé. Age 21+ to participate. Studio fee: $10.
1-J The Interface Between Art and Engineering
Michael Guarraia, Parent, Faculty: Upper School Engineering / Rhys Joseph, Faculty: Upper School Visual Arts
A weld can be attractive, but mechanically inferior. Conversely, it can be robust, yet unsightly. A perfect weld is neat, consistent, and structurally sound. In this session, participants will explore the interdependence between art and engineering by "making" a piece of functional art. Studio fee: $10.
1-K The Sky-Rocketing Cost of Higher Ed: Can We Make College Tuition Free?
Ben Miller, Alumnus (2003): Senior Director, Postsecondary Education, Center for American Progress

A college education is likely the second largest purchase families make today — only a home costs more — and for good reason: a postsecondary degree provides the best and most stable path to economic success and a fulfilling career. It can provide a life-changing pathway from disadvantage to opportunity. But, with student loans and tuition prices at an all-time high, how can we make higher education affordable? This session will discuss why college is so expensive, what the government and others are trying to do about it, and the realistic likelihood of tuition free college.
1-L Identify and Communicate Through Rap
Jamaal Collier, Parent: Artist, Poet, Performer; Mic-ology Spoken Word Slam Champion
The Young Audiences Artist of the Year, Jamaal "Mr. Root" Collier, will explore character traits and community awareness through self-expression and rhyming couplets, a.k.a. rapping. He is a dedicated and versatile Hip-Hop artist with over a decade of experience facilitating workshops and live performances. By incorporating rapping, vocal percussion, and a dynamic stage presence, he articulates his passionate appreciation for his artistry every time he teaches and performs.
1-M Stories From Home: How Our Sense of Home Determines Our Lives
Ileana Imhoff, Parent of Alumni, Faculty: Upper School Spanish; Malick Mbengue, Faculty: Upper School French
Where is home? What is home? How does one make a home? Do we all need to
have a home? Does the question, "Where are you from?" make you feel like an insider or outsider? Do we feel "at home" at work? Furthering the holistic understanding of diversity and identity, "Stories From Home" is a faculty initiative that examines "home": personal backgrounds, life experiences, socio-economic statuses, and cultural values. The project has tackled immigration and what it means to adapt to a new life, religion and the challenges of practicing in a non-secular school community, family values and
relationships, childhood and growing up, and race. In this session, you will explore home – literally and figuratively.
1-N One Very Special Student Directed Play
Peter King, Parent of Alumni, Faculty: Upper School Theater, Drama Chair / Park Upper School Students
At Park, student directors pick plays they are passionate about — plays with social issues, plays with outrageous comedy, plays that explore deep personal relationships, plays poised on the cutting edge, plays that excite, plays that inform, plays that change us. We know that whatever play we choose for you to see, SOMETHING will happen to you, and we'll have a great "talkback" with the Park actors and student directors after the show.
1-O Secrets of the Pulitzer Prize
Robert Blau, Parent: Member of the Pulitzer Prize Board Since 2011; Executive Editor, Projects and Investigations, Bloomberg News; Former Managing Editor, The Baltimore Sun

A look at the most prestigious awards given for journalism, arts and letters, and the enduring quality of the work honored each year.
1-P Our Place in Space
Mark Clampin, Ph.D., Parent: Deputy Director, Sciences and Exploration Directorate, Code 600 at NASA/Goddard Space Flight Center / John Debes, Ph.D., Parent: STIS Team Lead, Space Telescope Science Institute / Antonella Nota, Ph.D., Parent: ESA HST Project Scientist & Mission Manager; STScI Associate Director, ESA / Harold (Hal) Weaver, Ph.D., Parent of Alumni: Project Scientist, NASA's New Horizon Mission, The Johns Hopkins University Applied Physics Laboratory
The objective of this session is to ponder the theme of "our place in space." Where does humanity fit in the grand scheme of our Universe? In a panel format, four astronomers will share their perspectives on the adventures of men and women in outer space. Starting from our own solar system, how have we expanded our travel horizons to break out from the boundaries of our planet's atmosphere and explore our space neighborhood? We will ask key questions that excite professional astronomers and public alike, including: Are we alone in the Universe? Is there life elsewhere outside our own planet Earth? We will discuss how technology is helping to provide answers, and how beautiful space telescope images keep us dreaming and inspired to explore the Universe.
1-Q Don't Judge a Book by Its Movie
Larry Doyle, Parent: Unemployed
The Speaker will describe how he turned an unsellable screenplay called "I Love You, Beth Zawicky" into an award-winning novel called I Love You, Beth Cooper, that he then adapted into a somewhat better screenplay for a movie that got a 14 percent Fresh rating on Rotten Tomatoes, more or less ending his Hollywood career. The Speaker also will likely digress into other possibly interesting showbiz stories, and no doubt will say something unkind about Danny DeVito. And people will probably ask about when he wrote for The Simpsons, a long time ago. He will give out unsigned copies of the movie tie-in edition of the novel, which he can't bear to look at.